AQUA-REPEL – WATER REPELLANT FOR MASONRY
(AQ Repel on Concrete Cr)
• Prevents water penetration into the surface
• Allows masonry to breathe
• Protects masonry from frost
• Impedes growth of algae and moss
• Colourless
• Doesn't change the appearance of the treated masonry
• Long lasting effect – normally in excess of 10 years.
• Water based and safe to use near animals and plants.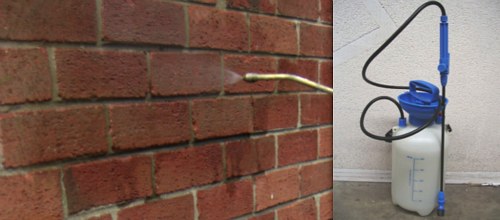 Pics: "5L Spayer", "Aqua Repel on Brick"
Aqua-Repel is best applied by low pressure sprayer in sufficient quantity to penetrate the masonry. Liberally apply Aqua-Repel to saturate the surface so that it can be seen to be absorbed into the surface.
For more information, click here to download a data sheet.
If you have any further questions, Call FREE on 0800 0833 289
Or Email: info@waterpoofinguk.com
Call Us Now
0800 083 3289